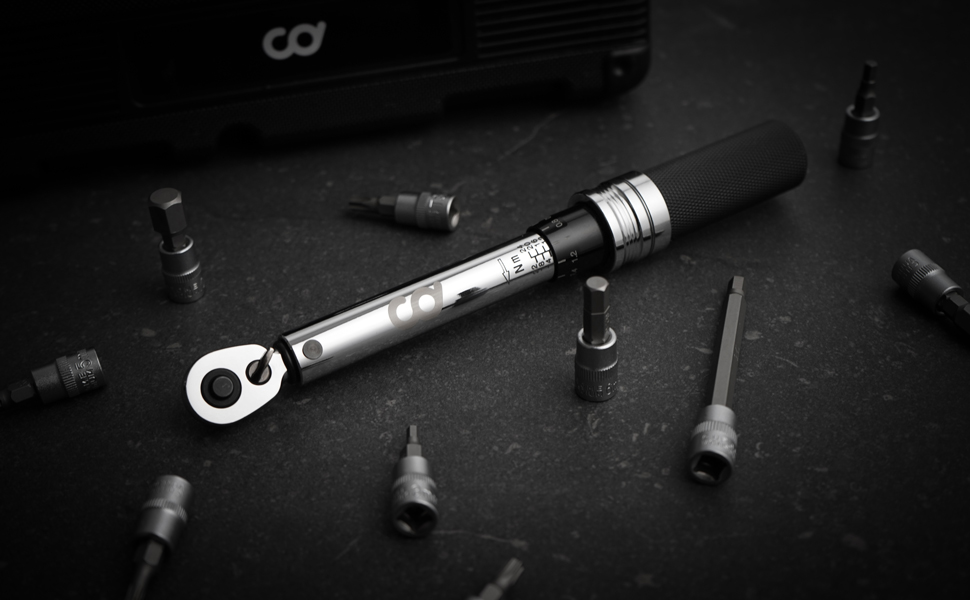 ESSENTIAL: Too much tightening will deform bike parts. Too little torque would mean the parts are loose. The bike torque wrench is a must have tool for installing bolts and bike part.
CALIBRATED BEFORE PACKING: We understand the accuracy of the torque is very important, especially for those expensive carbon parts. All the torque wrenches are pre-calibrated in the factory. Please read the instruction carefully to avoid any damage.
One of the MOST ACCURATE Mechanical Torque Wrenches : Allowing to preset up to 0. 2Nm, for example preset 5.4 Nm. And it is the torque wrench with a preset lock ring. Unlike others the presetting could be changed when turning the handle, the torque wrench comes with a lock ring to freeze the preset value.Torque range: 2 - 24NM
ONE WAY TORQUE; TWO-WAY WRENCH: One way "Click' type torque for tightening bolts. Two-way wrench to unscrew the bolts. Also it comes with common bits: Hex: 3/4/5/6/8/10mm, extra long 5mm; T20, T25 & T30 neatly stored inside the handle. Note: Stop turning when you feel a 'click'. 'Click' means the torque has reached a preset value.
ORDER NOW, WORRY FREE! We're so confident about our product quality that we can provide a life time warranty !  Made in Taiwan.
VISIT US
Temporarily Closed to The Public
BUSINESS HOURS
Temporarily Closed to The Public
EMAIL US
sales@cyclingdealusa.com
CALL US
909-397-4025