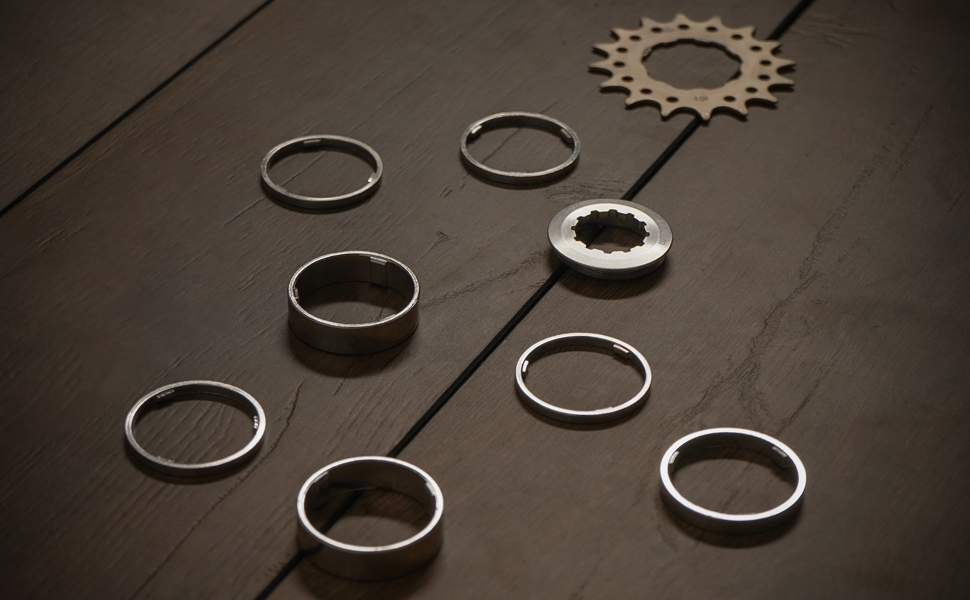 COMPATIBILITY: Convert a multi speed hub to single speed wheel. Compatible with all Shimano or Sram 7 to 11 speed cassette type hub body, mountain and road. NOTE: It will NOT covert the hub into fixie, so the hub is still a freewheel hub.
CHAIN SIZE: The sprocket is compatible with the chain width from 1/2" x 3/32" to 1/2" x 11/128". ( 7 speed to 11 speed chains). You can use your original chain! With a choice of different sprocket teeth selections, you can always get the perfect pedaling ratio.
PERFECT CHAIN LINE: The kit includes a set of single speed spacers, lockring and sprocket.Comes in a range of spacer size's Allowing to get a perfect chain line. Please watch the video in the listing for more details.
PACKAGE: Spacers: 2x 10mm, 1x 5mm, 4x 3mm. Hub Ring Nut (lock ring): Quality alloy 6061. Sprocket: Cro-mo steel construction ensures reliability.
ORDER NOW, WORRY FREE! We're so confident about our product quality that we can provide 2-year warranty!  Made in Taiwan.
VISIT US
Temporarily Closed to The Public
BUSINESS HOURS
Temporarily Closed to The Public
EMAIL US
sales@cyclingdealusa.com
CALL US
909-397-4025