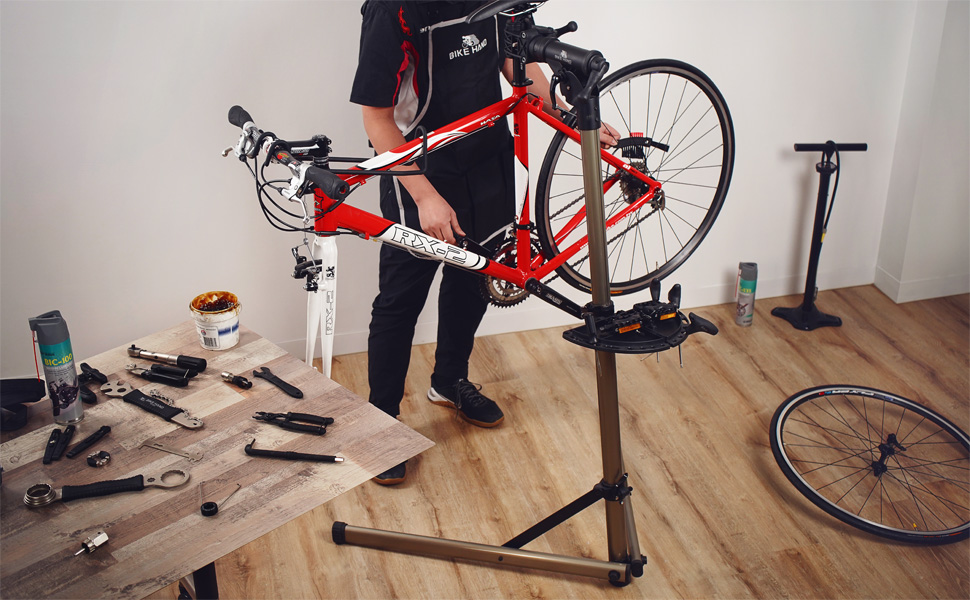 You need a bike repair stand to take care of swapping tires ,lubing a chain, adjusting the derailleurs, or building a new bike. The bike stand must be
good looking
,
heavy duty
, light,
foldable
, portable, adjustable and good value. Bikehand Bike repair stand is one of the best available choices.
Patented 360 degree rotating clamp
This allows the bike sitting at any angle by clamping on the frame tubes or seatpost. And it is very easy to rotate the clamp by turning the handle. It is also very stiff after locking.
It is better to clamp on seatpost for your carbon bikes in order to avoid damaging the carbon frame
Clamp and height adjust range
Patented clamp accepts the tube in shape thickness from1 inch to 2.4" and width from 1 inch to 2.55" tubes.The height adjustment rage is 39" to 59".
Magnetic tool plate
Magnetic tool plate is also included in this deal. It makes the tools very handy.
Foldable & Portable
After bike service or repairing, you probably do not need to use the stand for a while. The foldable bike stand is one of the best choices.
It is very easy to fold the legs and head by quick release & lock handle.
Following our video instruction, it only takes less than 15 seconds to fold the bike stand.
Simply place the rack on the shelves or hide in the corner or carry it with you in the car for riding.
The high quality folding mechanism never fails.
VISIT US
Temporarily Closed to The Public
BUSINESS HOURS
Temporarily Closed to The Public
EMAIL US
sales@cyclingdealusa.com
CALL US
909-397-4025