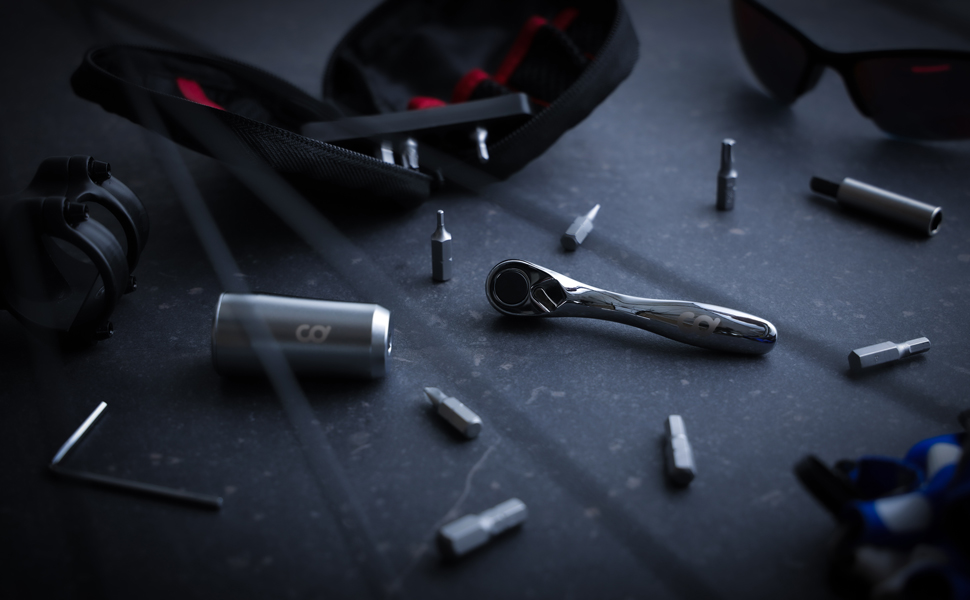 WELL FINISHED: Stainless steel and high polish bright silver wrench, provides a good slip resistance. More durable,  better corrosion resistance, enhanced brightness, color and reflectivity.
3-10NM SLIPPING TORQUE:  Setting torque range from 3 to 10 Nm prevents over tightening by slipping. Prevents damage to lightweight carbon components. 'Slipping' type torqe wrench provides better protection against 'Click' type torque wrench. No more guessing!
DURABLE AND COMPACT: Small compact mini ratchet with torque wrench, the whole package weights only 310g. Easily to fit into most saddle bags or even a jersey back pocket. It is handy to get this well designed compact kit for those ' just in case' moments during riding.
ONE TORQUE & TWO-WAY WRENCH: One way slipping torque for tightening bolts. Just detach torque bit to make it two-way mini wrench. Also it comes with common bits: Flat screwdriver, phillip screwdriver, T20, T35, Hex: 2/3/5/6/8mm.
ORDER NOW, WORRY FREE! We're so confident about our product quality that we can provide a life time warranty ! Made in Taiwan.
VISIT US
Temporarily Closed to The Public
BUSINESS HOURS
Temporarily Closed to The Public
EMAIL US
sales@cyclingdealusa.com
CALL US
909-397-4025