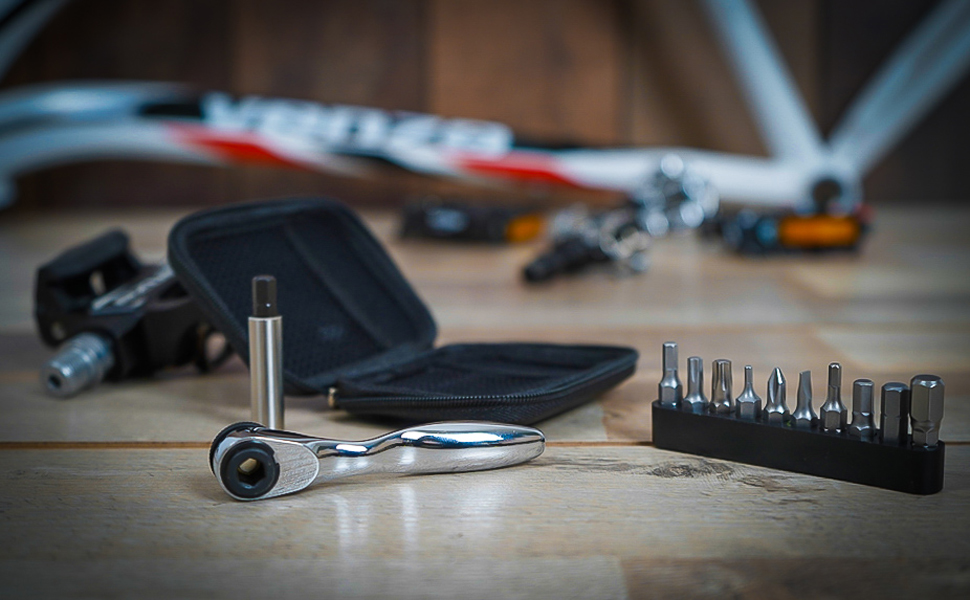 WELL FINISHED: Stainless steel and high polish bright silver, provides a good slip resistance. More durable,  better corrosion resistance, enhanced brightness, color and reflectivity.
EASY TO USE: Pocket mini ratchet extender and bit kit is suitable to carry during your ride.  It contains 10 bits for the most common repairs to your bikes  such as mountain, road or even a tandem. It's small body is designed to tighten or replace many fixings.
DURABLE AND COMPACT: Small compact mini  ratchet, it's only 59.5g with 90mm long, easily to fit into most saddle bags or even a jersey back pocket. It is handy to get this well designed compact kit for those ' just in case' moments during riding.
HARD POUCH CASE: Lightweight, durable,  and convenient to carry, soft internal fabric for extra protection.  Dimensions: 3.1 x 3.7 x 0.7 inch (7.8 x 9.4 x 1.7 cm)
ORDER NOW, WORRY FREE! We're so confident about our product quality that we can provide a 2 years warranty ! Made in Taiwan.
VISIT US
Temporarily Closed to The Public
BUSINESS HOURS
Temporarily Closed to The Public
EMAIL US
sales@cyclingdealusa.com
CALL US
909-397-4025