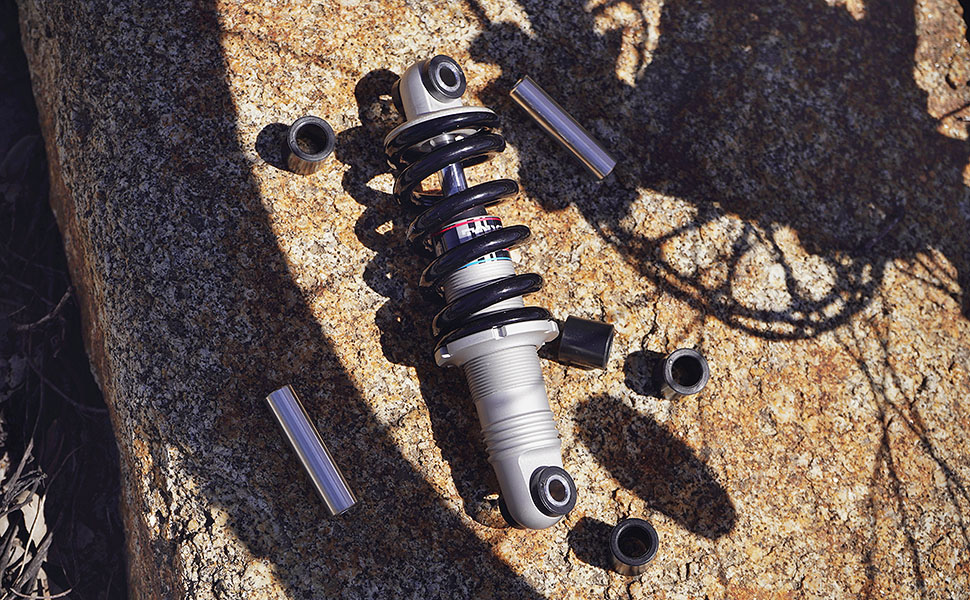 PRODUCT SPECIFICATION: Adjustments Preload, Hard Chromed Shock Ø 10 Mm ( 0.39 Inch ) Shaft.Dark Hard-anodized Al-6061 "in One Piece" Shock Body, Riding style XC / Electric wheelchair.
EXTRA BUSHINGS INCLUDED: Top busing size: 8mm x 24mm; bottom bushing size: 8mm x 24mm and extra bushing 8mm x 50mm length.  We have included an additional set of bushings for easier installation, please see 2nd picture. (Please also watch the video in the listing for how to choose the size and install a shock).
AVAILABLE SIZE: Available Size Eye to Eye x Travel 150 x 30 mm ( 5.9 x 1.18 inch) 160 x 35 mm ( 6.23 x 1.38 inch) 165 √ó 35 mm ( 6.5 √ó 1.38 inch) Weight: 0.2 KG(0.44 Ib) for 165 mm Length.
QUALITY: DNM produces high quality shocks and forks in the cycling, motorcycle and wheelchair industry.  This is a great upgrade from the old shock. It is precisely machined to ensure great permanence.
ORDER NOW, WORRY FREE! We're so confident about our product quality that we can provide 5-year warranty!  Made in Taiwan.
VISIT US
Temporarily Closed to The Public
BUSINESS HOURS
Temporarily Closed to The Public
EMAIL US
sales@cyclingdealusa.com
CALL US
909-397-4025