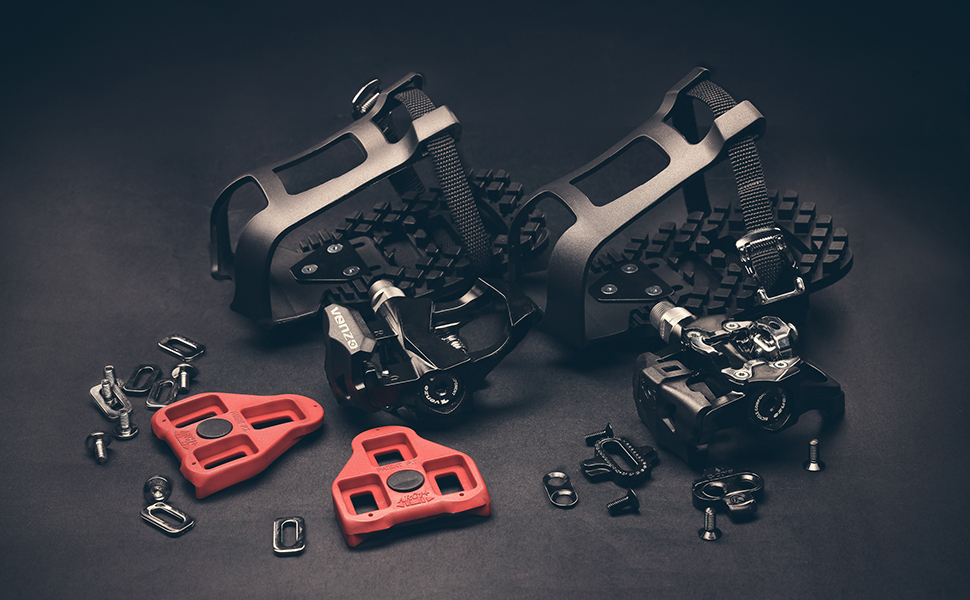 TRIPLE FUNCTION: Amazing! All in one: Riding with Look Delta road cleats style shoes or Shimano SPD MTB type shoes or normal sports shoes with toe clips. This is good option to replace Peloton pedals which is compatible with Look Delta only. Compatible with Look Delta (1 set 9 degree) & Shimano SPD (1 set) cleats & toe clips are included in the package.
GREAT FOR Indoor BIKES: The pedals are specially designed for Indoor bikes. Strong material: dia-cast aluminum body, extra heavy duty oversized CNC Cr-Mo 9/16" Axle; Smooth riding: sealed bearings. Friendly reminder : Please do NOT use other pedals such as road or MTB pedals on Indoor bikes.
FULLY COMPATIBLE: Compatible with all Shimano SPD MTB & Look Delta pedals system. Means you can use Shimano SPD & Look Delta cleats on these pedals or use these cleats on Shimano SPD & Look Delta pedals.
ADJUSTABLE CAGE POSITION: The only Indoor bike pedals come with adjustable toe clip position. The max adjustment range is 15mm. It will always give riders very optimized riding position no matter how big feet the riders have.
ADJUSTABLE TENSION: The cleats tension could be adjusted by the screw on the side of the pedal. It allows riders to achieve perfect clip in and out feelings. Size: 87 x 90 mm; Weight: Pedals with cleats: 578g=1.27lbs /pr; Toe clips: weight: 350g=12.3 oz. Warranty: 2 year. Made in Taiwan.
PACKAGE: Package Includes: 1 pair pedals, 1 pair ARC1 cleats, 1 pair C01F Shimaon SPD compatible cleats and 1 pair toe clips.
VISIT US
Temporarily Closed to The Public
BUSINESS HOURS
Temporarily Closed to The Public
EMAIL US
sales@cyclingdealusa.com
CALL US
909-397-4025