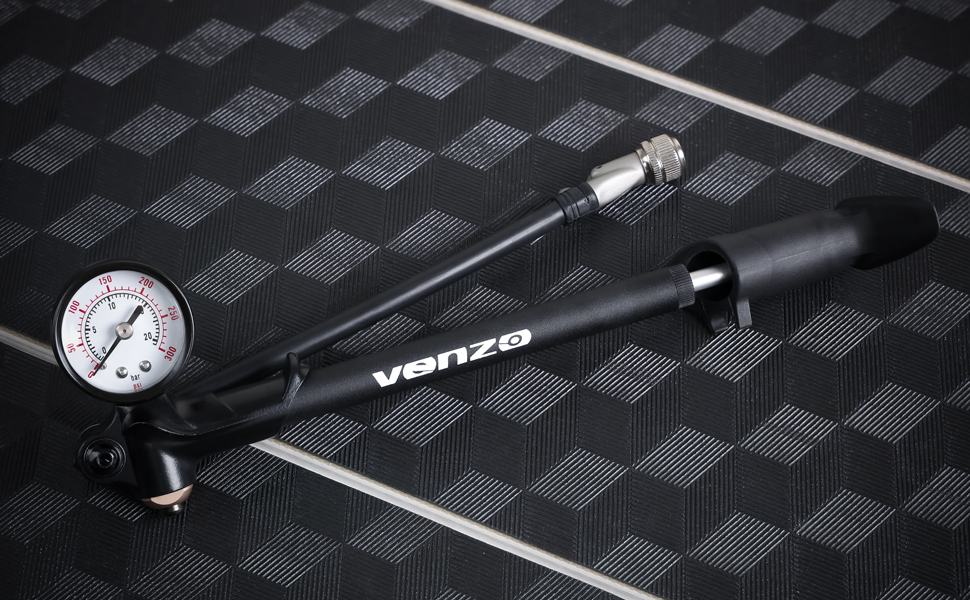 NO AIR LOSS NOZZLE: Experienced cyclists know shock pump always lose a small mount of air when disconnect, this pump with lever lock on the head will guarantee no air loss.  Please watch the video in the listing to learn how it works !
APPLICATION: Shock pump use on inflating mountain bike's air fork or rear suspension with Schrader valve, please don't use it on inflating bike tires. 300 Psi max.
DUAL FACE GAUGE: Gauge 1:  high pressure max: 300 PSI or 21 Bar. Gauge 2: low pressure max: 110 PSI (more accurate at low pressure reading). Aluminum Barrel. Weight: 218g=0.48lbs. Flexible 360 degree turning hose.Non scratch sealed rubber system on pump head.
BLEED BUTTON: Very easy to use overload pressure bleed button. It will make the the pressure is 100% accurate, if you know how to use the bleed button and no air loss nozzle lever together. Again, please check the video.
ORDER NOW, WORRY FREE! We're so confident about our product quality that we can provide 5-year warranty!  Made in Taiwan.
VISIT US
Temporarily Closed to The Public
BUSINESS HOURS
Temporarily Closed to The Public
EMAIL US
sales@cyclingdealusa.com
CALL US
909-397-4025